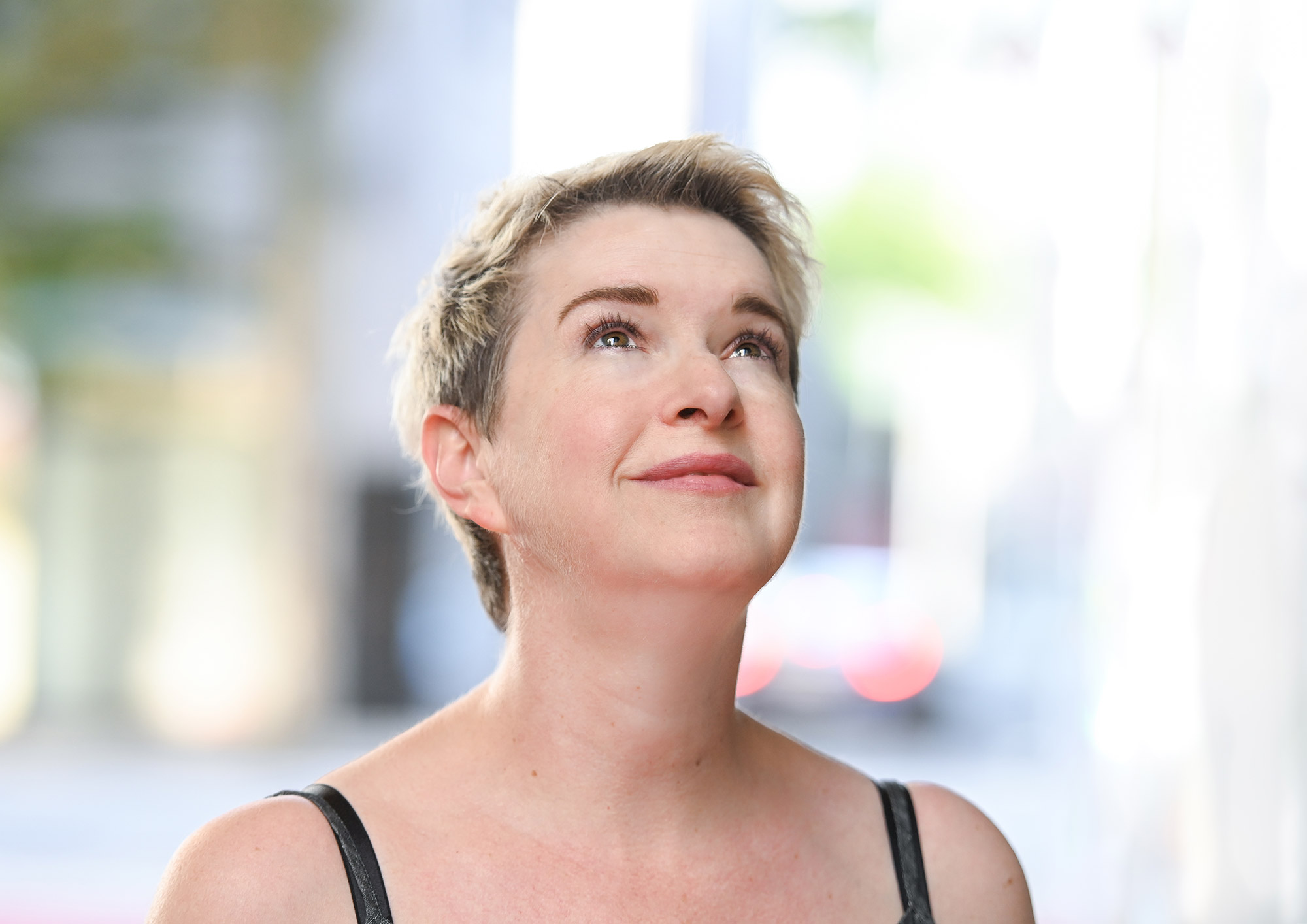 Viviane Houle (solo)
Viviane is currently developing materials for two new solo projects:
Unsung Songs, graphic scores for voice and improvising orchestra/ensemble, explores the dangers of suppressing creative light and inspiration.  I was recently awarded a grant from the Canada Council for the Arts to develop and produce this project!  I performed one of my graphic scores, "First Words" (collaboration with Quebecois filmmaker, Pierre Hebert) with the NOW Orchestra in Vancouver, March, 2018.  "First Words" will be revised and presented again in Montreal in November, 2019 with SuperMusique Orchestra.  Two more scores from this series will also be presented in Vancouver, BC and in Berlin in 2018/19.
Sleeping/Waking, for solo voice, explores our impulses and desires to go to sleep and to wake up. Original lyrics, extended vocals, imaginary languages and improvised song are featured in this work.
Viviane Houle (vocals) and Jeff Younger (guitar)
Two of Canada's strongest improvising voices, guitarist Jeff Younger and vocalist Viviane Houle perform heartachingly beautiful improvised art song, heavy free improvisations and sublime soundscapes. Long time collaborators, this telepathic, fearless duet shares a love of extreme sonic textures, languid melodies, expressionistic maelstroms, gentle spaces and the unknowable cracks in between.
SoundOut Vocal Ensemble
Inspired by conduction choirs such as Phil Minton's Feral Choir, Pauline Oliveros' Deep Listening scores and compositions, and non-traditional music notation, Viviane Houle formed this improvising vocal ensemble in 2007.  Based on the Sunshine Coast, this group of intrepid singers explores and performs all manner of non-traditional musical forms including graphic scores, instruction pieces, instant compositions, structured improvisations, and sound poetry.
Dear Charlotte
A long form piece for voice and chamber nonet, Dear Charlotte is a work in progress with long time collaborator and Vancouver based guitarist/composer, Jeff Younger.  Inspired by the life and work of painters Charlotte Salomon and Donna Balma, the project plunges Houle and Younger into a deeply personal telling of a walk through life's toughest challenges and emergence from the other side anew. After fifteen years of performing and improvising together, the two artists join as co-composers of a piece that blends through written material with solo and ensemble improvisation.
"[Louis Andriessen] was then joined on stage by Vancouver's powerful and unmatched Viviane Houle. It turns out that she embodies a kind of Kiri Te Kanawa who has swallowed the DNA of Yma Sumac. The heights of Houle's vocal folds are stratospheric. We get grand opera, French chanteuse, and arcane contemporary classic singer capable of anything deeply vocal."
"Intimate, eerie, electrifying, Treize is a tour de force of vocal improvisation."
"As lovely, surprising, and strange as the birth of a constellation."
"One of those rare gems of total improvisation that works on every level."
Yet the voice is everything you do not remember. Everything you should not be able to live without and yet, tragically, do.
– Ann-Marie MacDonald
Hour of the Wolf
A mesmerizing performance of an improvised score to Ingmar Bergman's groundbreaking surrealist drama Hour of the Wolf, and the first collaboration between two internationally celebrated improvising vocalists, Norway's Sissel Vera Pettersen and Canada's Viviane Houle. Accompanied by the Eye of Newt ensemble. Sissel Vera Pettersen – voice (Norway), Viviane Houle – voice, Stefan Smulovitz – laptop/viola, Chris Gestrin – keyboards
PuSh International Performing Arts Festival, 2015
Petit/Kassap/Houle/Smulovitz
The explosive meeting of French masters Didier Petit – cello, and Sylvain Kassap – bass clarinet, in quartet with Viviane Houle – voice and Stefan Smulovitz – laptop/viola.
Vancouver International Jazz Festival, 2013
Anthony Braxton Sonic Genome
Hand picked as one of two featured vocalists by creative music legend Anthony Braxton, Viviane Houle performed in this epic, 8hr long work alongside a 60 piece improvising ensemble.  8 hours + 60 musicians = 1 sonic genome – The Globe & Mail (article)
Vancouver Coastal Jazz and Blues, 2010
Water to Bones
A multimedia project featuring voice, electronics, visual arts, live improvisation and collaborative software design. Viviane Houle – solo voice and electronics, Jamie Griffith – visual artist Software collaborations: Stefan Smulovitz and Viviane Houle for Papilllon software, Rob Scharein and Jamie Griffith for ShadowsKP software.
Theatre for the Ears audiovisualization festival, Vancouver New Music, 2010
Passion of Joan of Arc with Eye of Newt
Featured vocalist for the premiere of Eye of Newt Ensemble's full length work. Viviane Houle – voice, JP Carter, John Korsrud – trumpet, Jeremy Berkman – trombone, Rebecca Whitling – violin, Reg Quiring – viola, Peggy Lee – cello, Daniel Tones – percussion, Michael Murray – pipe organ, Stefan Smulovitz – composer, Colin Brown – librettist, Giorgio Magnanensi – conductor.
PuSh International Performing Arts Festival, 2010
Improv Cabaret featuring Louis Andriessen (piano), Viviane Houle (voice) and Cristina Zavalloni (voice)
Legendary contemporary composer Louis Andriessen in a rare improvised performance on piano, with renowned Italian singer Cristina Zavalloni and Canadian vocalist Viviane Houle.
Music on Main, 2009
Gesture4
gesture4 combined "technological mastery, physical grace, and heartfelt emotion" (~Georgia Straight) in an exploration of live art and instant composition. A hit with the festival audience, it was an audacious and sublime collaboration using spontaneous music, video and movement. Viviane Houle – voice, Stefan Smulovitz – laptop/viola, Noam Gagnon – dance, Jamie Griffiths – video. Gesture4 – Georgia Straight (article)
FIMAV, 2008
Treize – Viviane Houle
Houle's first solo release, a critically acclaimed recording of improvised duets uniting the vocalist with many of Canada's finest improvisers. Peggy Lee -cello, Lisa Miller -piano, Coat Cooke – saxophone, Kenton Loewen – drums, Ron Samworth – guitar, Chris Gestrin – analog keyboards, Jesse Zubot – violin, Stefan Smulovitz – laptop/kenaxis, Jeremy Berkman – trombone, Brent Belke – guitar, Paul Plimley – piano, Jeff Younger – guitar, Clyde Reed – bass, Jesse Zubot – producer.
Released on Drip Audio, 2008
Al Neil Tribute
A featured festival performance celebrating the life and work of legendary Canadian visual artist Al Neil. Viviane Houle – voice, Paul Plimley – piano, Gregg Simpson – percussion, Clyde Reed – bass, Stefan Smulovitz – laptop/viola
Vancouver International Jazz Festival, 2008
Palimpsest
Highly anticipated premiere of maverick, Canadian composer Bradshaw Pack's audacious work for chamber ensemble and voice. Bradshaw Pack – composer Standing Wave ensemble: Viviane Houle – mezzo-soprano, Phoebe Macrae – soprano, Peggy Lee – cello, Eric Lee – bass, A.K. Coope – clarintet, Allen Stiles – piano, David Harding, Rebecca Whitling, Cameron Wilson – violin, Vern Griffiths – percussion, Ray Nurse – chitarone.
Vancouver Festival, 2006