voice lessons & workshops
A genuine curiosity about the full expressive possibilities of the human voice guides all of my lessons and workshops. Helping others connect better with their voices and unique creative impulse, so that they can better connect and communicate with others in the world around them, is my passion. Every voice has a story to tell, and every voice deserves to be heard.
My extensive experiences as a performing artist, voice teacher, lifelong student of music, and counselor, allow my approach to be both informed and intuitive. As a result, the experience for each student or group is naturally tailored toward their individual interests and needs. Whether in music or every-day life, the voice is a natural bridge to expression, awareness and connection.
Lessons and workshops are available in Vancouver, BC. Out of province and international workshops may also be arranged.
"My work with Viviane has been such a freeing experience, both empowering and personally very healing. Friends and fellow musicians have noted that I am singing with more confidence, projection and depth since I began working with her.  I was looking for someone to help me reach my potential as a singer and I feel really blessed to have found the right person. I was already seeing results and freedom in my singing after the first few sessions."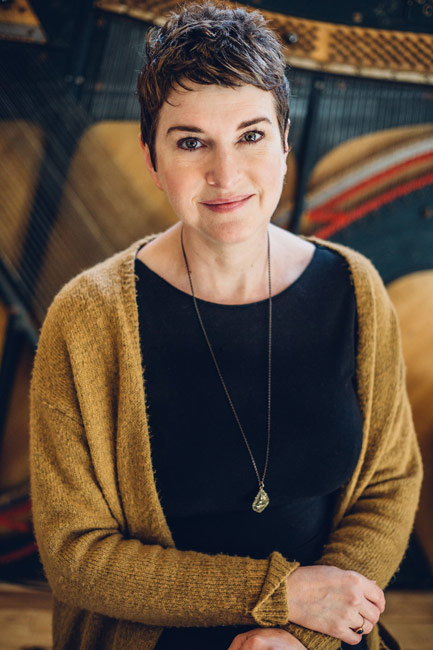 "Viviane helped me find my singing voice when I didn't think I had one. I discovered how much I love to sing."
Practice makes perfect, intuition and improvisation make genius.
– Hugh Milne
In my lessons I use a whole person approach to working with the voice that brings together my broad performance experience, research and study in music, voice and movement, and my work as a therapist. It is informed by a variety of traditions and practices including Opera, New Music, Improvised and Creative Music, Continuum, Qi Gong, contemporary dance, expressive arts therapies, Deep Listening, and the Roy Hart/Richard Armstrong tradition of voice.
The focus in private lessons is on the individual interests of each student. I offer both private and group voice instruction that includes technical skills, improvisation, repertoire development and Deep Listening practices. My approach fosters the development of a connection between voice and body and voice and personality, with the goal of helping everyone find their own unique sound with genuine and free expression.
"Viviane's voice classes have given me courage to share my voice more freely. It's helped me not just in class with singing, but in daily life with speaking and thinking on my feet. Working with Viviane is a crash course in creative spontaneity bundled with unexpected joy and beauty!"
"Viviane is an exceptional voice coach, challenging any level of singer to search for greater awareness of their voice in a holistic and experiential way that lifts the spirit and transforms. A true gift to the singing community."
"Viviane's essential nature is one that encompasses both care and curiosity. She brings a wealth of eclectic knowledge to her work and to her teaching style. With her vast life, educational and performance experience, she is able to uniquely meet each students' individual needs."
Voice and Improvisation Workshops
We all have the innate ability and need to sing and vocalize, whether we call ourselves "singers" or not.  This workshop is for anyone who is curious about the full expressive possibilities of the voice. No experience in improvisation or singing is necessary.
This workshop will help you develop your listening skills, vocal palette, range of expression, and the ability to free your voice and draw on your unique, natural musical impulses. We will use exercises in breath, sound and Deep Listening, outside-of-the box vocal warm-ups, gentle and fun movement, and unique sonic compositions. There is a focus on connection to breath, sensation and physical grounding in addition to the connection between the voice and personality of each student.
Vocal improvisation is good practice for life. It teaches you to be fearless and able to adapt to whatever situation arises. Developing your improvisatory skills will serve you well as a singer, musician and in your life in general.
Viviane has taught voice workshops for VISI (Vancouver International Song Institute), the NOW Orchestra, machinenoisy Dance Society, Groundswell (Manitoba), iSaW Theatre Company, Laboratorio, Jennifer Mascall Dance Company, StoryTheatre, and VOXY. Her own SoundOut vocal workshop series has been in operation since 2007 on the Sunshine Coast.
"Being a member of Viviane's SoundOut class has encouraged my creativity by enabling me to voice my unique sounds in the comfort of a group.  She has introdued me to non-traditional music scores that have encouraged me to write and have my sound score performed by our group.  The work with Viviane brought me out of being quiet and reserved into feeling freedom to yoddell, croak, hum or listen.  Viviane's lessons inspire me when I am working on my paintings and etchings.  I am thrilled to be a SoundOut member."
"In 2013 and 2014, Story Theatre invited Viviane to guide our troupe in the development of voice projection. Viviane offered us several wonderful workshops, each building on the one before it. The feedback from our troupe was unanimously positive. Viviane guided the 20 or so participants with ease and expertise. The experience was deeply rich for the troupe's development. Viviane helped the troupe with projection, but she also taught us the practice of deep listening, of sound improvisation, and of creating instant sound pieces. These new tools helped group cohesion, focus, and confidence."